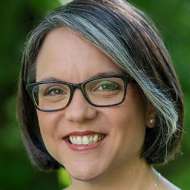 Joan Watson was born and raised in Lafayette, Indiana, but college and graduate school took her to Virginia, Ohio, and Rome. After graduating from Christendom College with a B.A. in History and Franciscan University with a M.A. in Theology, she moved to Nashville, Tennessee to be part of the explosion of Catholic culture in the middle of the Bible Belt.
She has been blessed to work for Dr. Scott Hahn at the St. Paul Center for Biblical Theology, the Dominican Sisters of St. Cecilia at Aquinas College, and the Diocese of Nashville. She is currently a full-time Catholic speaker and writer. She also serves as the Associate Editor of Integrated Catholic Life.
When she's not testing the culinary exploits of new restaurants or catching up on the latest BBC miniseries, she's FaceTiming with her nine nephews and nieces and enjoying her role as coolest aunt. She likes gelato, bourbon, and the color orange.
This user account status is Approved
This user has not added any information to their profile yet.