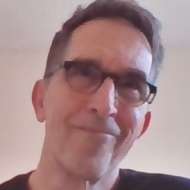 To submit poetry to be considered for the Catholic Poetry Room, visit our submission guidelines page.
Jeffrey Essmann is Poetry Editor for IntegratedCatholicLife.org and always searching for the best Catholic poetry from today's poets as well as those of the past.
Jeffrey is an essayist and poet living in New York. His work has appeared in numerous magazines and literary journals, among them America Magazine, Dappled Things, the St. Austin Review, Pensive, Agape Review, Edge of Faith, Grand Little Things, and The Road Not Taken. He is a Benedictine oblate of Mt. Saviour Monastery.
This user account status is Approved